Paul McCann, a lifelong student of the sword will be in attendance Saturday, January 21 from 9:30 AM till 3 PM, to share some insights with horse people about how to safely and effectively use a sword on horseback. This clinic is fle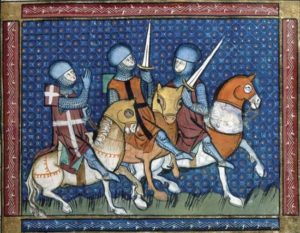 xible for all levels of swordsmanship student: those participating in the mounted portion will need to be comfortable riding with the reins in one hand.
Paul's many years of study have given him insight into the full panoply of mounted martial pursuits, to which he adds experience and excellence in small group and individual instruction. Building off of cavalry training manuals, Paul will take the class of no more than 10 participants through stances, postures, swings and blocks, to give insight into mounted sword combat and its evolution. After the on-the-ground portion, there will be a brief, hot lunch, and then we will move on to mounted exercises as a group and then one on one.
Check in will be from 9-9:30 AM in the large hall beside the tack-up area. there will be coffee and tea to warm you up while you meet Paul and hear his overview of the class. Students will then spend an hour and a half to two hours learning and practicing on the ground, before a brief lunch break and then tack up of horses for the ridden portion, starting at 1 PM.
The Grene Wode supplies all pells, targets and wasters (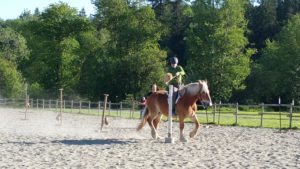 mock swords used for the class), but you are welcome to bring your own waster or synthetic longsword. Please dress according to the weather: we highly recommend layers with some stretch as well as usual riding attire for the mounted portions. While the salle is indoors and fully enclosed, it is unheated, so you will wish to dress warm. The Grene Wode's insurance requires a helmet worn for all mounted activities, there are a limited number of  helmets to borrow if necessary.
The price for the clinic, including lunch is $100, $90 if you are bringing your own food and drink. This includes the use of a Grene Wode mount or the haul-in fee if you wish to ride your own horse.  Auditing of either portion will be $10 per person per portion, so if you wish to audit the whole clinic, it will be $20. Grene Wode Patrons receive their usual discount to participate or audit.
For more information, please text Briana at 604-720-5402, or email to thegrenewode@gmail.com