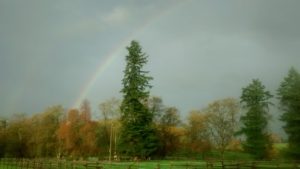 The changes of weather create changes of scheduling and maintenance for an equestrian facility. The cooler weather has triggered the shedding out of the fine, short summer coat, and the growth of a thicker, coarser winter coat. Since our horses live outside 24/7, boarders, students and leasers need to remember to budget time in their grooming procedure to deal with the change in the coat and the new layers of mud the horses will have added to their coat with enthusiastic rolling. In addition, the changes in the path footing can add sticky mud to their feet, so a hose off of legs and feet when the rider brings a horse in may also be in order!
Some owners prefer to have their horse blanketed during colder weather months, and as long as the blanket comes off regularly to check over the horse for rubs and comfort, there's nothing wrong with blanketing appropriate to the weather and the horse's comfort levels.. Older horses and those suffering health challenges will have an easier time maintaining weight if they are given this extra protection from the weather.
The weather affects lots of things. Footings get sodden instead of dusty, and trail grounds become muddy and slippery. Here at the Wode, while the woods trails stay rideable most of the year, the meadows trails can be treacherous, especially to unfit animals, so we advise riding with caution, aware that the rider's position on the horse interferes with their natural balance.
The indoor arena begins to see more use as well, as eight hours of heavy rain will render the outdoor soupy, and sloppy footings can negatively impact a horse's traction. We expect all riders to treat the arenas with respect for their fellow riders and pick up any droppings their horse leaves, and return any equipment they use during their ride or training session to the storage areas when they are done with them. We are a great community here, and respectfully sharing our common areas is one of the things that makes the Grene Wode a great environment for horses and riders!